Guys. I have been looking forward to today for a year. No joke. Last yea
r around this time I finally gave in to peer pressure and watched BBC's North And South. People had been telling me to watch it for about seven years. And I kept finding other things to do and I thought it was based on that Civil War book of the same title. Oh, how wrong I was. It has nothing to do with America and everything to do with the character named John Thornton played by Richard Armitage. I fell IN LOVE with the story and watched it on repeat for, like, a month or something. Crazy/ridiculous/awesome.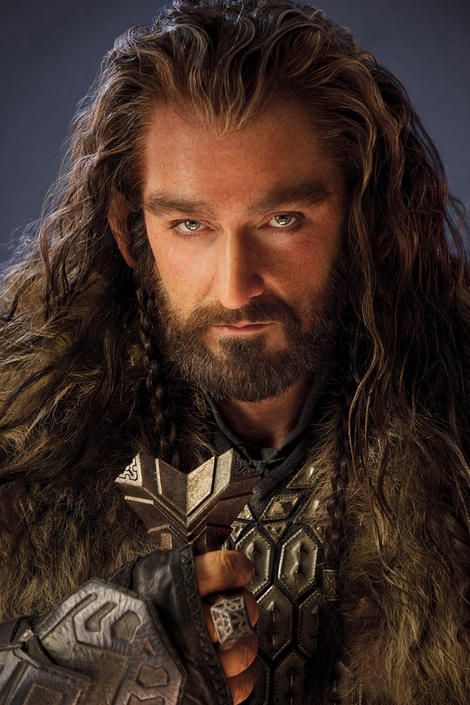 And then, after my marathoning of the mini series, I decided to
look up who played Mr. Thornton because he did a really good job and I was curious if I'd seen him in anything else. I was surprised when I discovered that I had in fact seen him in a couple of different things. The Hobbit being one of them. Which is hilarious because I remember watching The Hobbit: An Unexpected Journey on New Years Eve with a guy friend and at the end I remember telling him, "You know, that main dwarf was almost attractive. I wonder if I've seen him in anything else." And my guy friend just rolled his eyes and we went about the rest of our day. And I forgot about the almost attractive dwarf. And I didn't watch the rest of the Hobbit movies until last year.
So yeah, Richard Armitage. I read on Pinterest somewhere that he doesn't like being reminded of his age on his birthday, is that a real thing? I have no idea. Sometimes Pinterest lies. But if so, that's funny. Hence why I just put the number 5 on his birthday cake that I will go into later. I also read on Pinterest that he is a huge anti bullying advocate, which I greatly respect. And he's a bit of an introvert which I TOTALLY relate to. He gre
w up in Leicester, which is in northern England and joined the circus in Budapest when he was 17 to get his equity card. He has such a rich, deep voice and sounds amazing when he sings. He also plays the guitar, flute and cello.
I barely missed his birthday last year because I didn't know who he was yet and I was so mad that I missed it that we had a Richard Armitage marathon in September when I discovered who he was. He currently holds the #1 spot on my Top 5. He knocked Tom Hiddleston off last September and has maintained the #1 spot ever since. I would LOVE to work with him at some future date. I think he is a phenomenal actor.
If you don't know this for yourself, I highly recommend watching North and South, BBC's Robin Hood series (even though the costuming is abominable the first three seasons and it's trying so hard to be as great as Merlin, but it's not. Watch it for Richard and nothing else), The Hobbit movies, the second half of the last season of Hannibal. His role is mostly silent in that, and he plays a killer, but if you want to see his acting ability, he is so amazingly good. Also, you should watch him in The Vicar of Dibley. I think that is one of my favorite roles of his. I love the character and he has mentioned that his character, Harry Kennedy, is probably the most like him in real life. Which is wonderful because his character was so awesome on that show. You also need to find a copy of The Crucible from The Old Vic theater in London in 2014. Richard plays John Proctor and Oh. My. Gosh. He is phenomenal. I know I already used that word, but I felt stupid saying that he's really really really really really really good in it. Because he is. Holy cow. He's amazing. Go watch it. Or, if we're friends in real life let me know because I have a copy of it. And I'll gladly watch it again.
Because he is at the very top of my Top 5, I decided to make an AMAZING birthday cake for Richard even though he may not ever see it. Which would be sad. But I'm the one who is going to eat it with some friends during my Richard Armitage marathon, so it had to be good, and I think this is the most amazing cake I've ever made. No joke. It's a triple chocolate cake because I read on Pinterest somewhere that Richard loves chocolate and I'd like to think that if he were actually here to celebrate his birthday he'd enjoy the amazing cake I made. So, here's the recipe!!
The original recipe comes from Recipe Girl's blog
HERE
.
Triple Chocolate Cake
CHOCOLATE CHEESECAKE:
5 ounces bittersweet chocolate (70% cocoa), chopped
Two 8-ounce packages cream cheese, at room temperature
1/2 cup + 3 tablespoons granulated white sugar
2 tablespoons unsweetened cocoa powder
2 large eggs
CHOCOLATE CAKE:
1 3/4 cups all-purpose flour
1 1/2 cups granulated white sugar
2/3 cup + 2 Tbs. unsweetened cocoa powder (not Dutch process)
1 1/2 teaspoons baking soda
1/2 teaspoon baking powder
1/2 teaspoon salt
3 large eggs, at room temperature
1 1/4 cups buttermilk, divided
3/4 cup unsalted butter, at room temperature
1 teaspoon vanilla extract
CHOCOLATE SOUR CREAM FROSTING:
2 cups semisweet chocolate chips
1/2 cup (1 stick) unsalted butter, at room temperature
1 cup sour cream
2 tablespoons light (white or golden) corn syrup
For the cheesecake layer, which you will want to make first, preheat the oven to 325. Melt the chocolate in the microwave and then set aside to cool a little before adding it to the cheesecake batter. While that is cooling down, cream the cream cheese until it's nice and soft. Then add the sugar and the cocoa. I use a rich, fancy cocoa and it actually does make a difference. This cake is amazing and I recommend going all out for it. Buy the expensive 70% cocoa chocolate bar. Buy the fancy cocoa for the cake. It will be the most amazing cake you've ever tried in all your life. I promise.
Any way, once you add the cocoa and sugar, add the eggs one at a time mixing it thoroughly after each addition. Scrape the sides to make sure everything is mixed thoroughly. Then, slowly pour in the chocolate. Mix until just combined. Pour into a 9 inch springform pan. This batter will be thick, so be aware of that. Then, pop it in the oven for 45 minutes. You can bake it in a water bath, but I have found it still works either way.
Once the cheesecake is done, you want to cool it down before you use it. This can take a couple of hours, so plan accordingly.
While the cheesecake layer is baking, you're going to mix up the cake itself. Start by grease and flouring two 9 inch round pans. This is essential so that you can get the cakes out perfectly. Once the pans are prepared, set them aside. Then, in a stand mixer combine the flour, sugar, cocoa, salt, baking powder and baking soda and wisk them together. Then add the eggs, butter, 1/4 cup of buttermilk, and vanilla. Mix on a low speed until the ingredients are incorporated, then turn the mixer to high for 2-3 minutes to get the batter nice and fluffy. Once the batter is well mixed, slowly add the remaining buttermilk. Scrape the sides of the bowl and then mix for 30 more seconds to ensure all the ingredients are well mixed. Pour into your prepared pans and turn the oven up to 350 degrees after the cheesecake layer is finished baking. Bake these cakes for 30-35 minutes or until a toothpick comes out clean. Let them cool in the pan for about 5 minutes and then turn them onto a cooling rack to finish cooling outside the pan.
Once you are ready to assemble your cake, you are going to melt the 2 oz of semi sweet chocolate chips and the butter in the microwave melting in 30 second spurts until it is completely melted. Once melted, add the corn syrup and sour cream and stir until well combined. Then, let it sit in the fridge for a few minutes until it is to a consistency that you can spread it on the cake. Frost the cake and then viola! You'r ready to curl up on your amazingly comfortable couch and watch this youtube video of Richard reading you a bedtime story!!