I am going to break from our usual tradition here and we are celebrating Roald Dahl's 100th birthday today! He may not be a famous actor or musician, but he has touched so many lives through his writing. I love Charlie and the Chocolate Factory as well as The Witches, though ad a child I was terrified of them. He has had a huge impact on our childhoods and imagination and I think it's something we should celebrate!!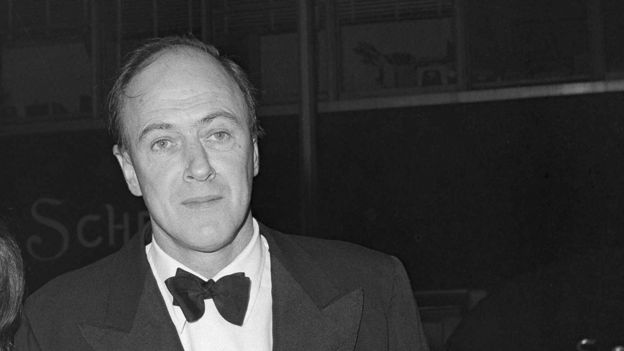 I have been reading and writing all of my life. As a child, my mom tells me, I would write stories and gather my dolls and stuffed animals and "read" to them. She would look at the books I'd written after I'd gone o sleep and it would be pictures and gibberish, but to me they were grand adventures full of Princess and warriors.
As I grew and learned to read I fell in love with books. I was always begging to go to the library to get new books and Roald Dahl was one of my favorites. I loved The BFG
and Fantastic Mr. Fox. I drank up the words on each page, often returning for a third and fourth reading before they were returned to the library.
And as I grew up, Hollywood decided to adapt several of the novels into
movies. How can anyone forget Gene Wilder as Willy Wonka? Or Angelica Houston in The Witches? I was terrified of accidentally running into a witch that would trap me in a painting. These movies defined a generation! These stories sculpted or imaginations and helped us look at the world differently!
I found this quote from his daughter Lucy, "his spirit was so large and so big he taught us to believe in magic."
And believe we did! To read more about Roald Dahl, you can visit his website
here
And, in honor of his birthday, I made some Double Chocolate Pecan Cookies!! They've got Chocolate and are practically candy, which I feel is especially perfect today!!
This is a recipe I have seen very similar variations of all over Pinterest. I found this recipe in an old cookbook that's been sitting on my bookshelf for years, so I'm sure you will find it similarly all over the place, but I did not take this from any one specific blogger.
Double Chocolate Pecan Cookies
1 cup butter
1 ¼ cups light brown sugar
½ cup granulated sugar
1 egg
1 egg yolk
1 teaspoon vanilla extract
2 cups flour
1 cup uncooked rolled (or old fashioned)
½ teaspoon baking soda
½ teaspoon salt
¼ teaspoon ground cinnamon
1 cup white chocolate chips
1 cup semisweet chocolate chips
1 cup roughly chopped pecans
Melt the butter in a saucepan on the stove. Once it is melted, remove from heat and stir in brown and granulated sugars. Move to the fridge to cool for about 10 minutes.
While that is cooling, combine the dry ingredients (flour, oats, soda, salt and cinnamon) in a bowl and set aside.
In a mixer, combine the vanilla and eggs and mix until combine. Then add the butter and sugar mixture. Once that is well mixed, add the dry ingredients. Once that is all mixed, add the chocolate chips and chopped pecans.
Now that the dough is ready, preheat the oven to 350 degrees and scoop the dough onto cookies sheets. Bake for about 10-12 minutes.